Print
Easy Seafood Paella Recipe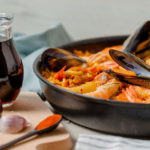 Learn the secret to a delicious paella with our seafood paella recipe.
Prep Time:

20

Cook Time:

25

Total Time:

45 minutes

Yield: Serves

8

1

x
200–250 mL olive oil
3 medium-size white onions
6 garlic cloves
4 artichokes or 2 packs green asparagus or ~300 g green beans
3 green sweet chillies
3 ripe tomatoes
3/4 medium-size squid or calamari
8 raw prawns (not peeled, size to taste)
~24 mussels
~32 pippies or clams (less if big)
8/10 little cups (~800g to 1Kg) bomba rice
3 times the rice in fish stock (2.4 to 3 L)
1 glass of white wine
salt and black pepper to taste
Instructions
Peel the tomatoes, cut it in small pieces and set aside
Leave the clams/pippies in a bowl with salted water
Clean the mussles and set aside
Set the paella pan well balanced over the appropriate size stove, add the olive oil
Fry the prawns and squids first (mid/high heat) for ~3 min (not fully cooked), then set aside
On low heat fry garlic, when golden add onions and veggies, stir and let them cook slowly until they are very tender, then add a glass of white wine. When evaporated add the tomatoes and let them cook slowly. Add salt and pepper
Increase to mid-heat and add the rice. Stir and roast it for ~5 minutes
Add the fish stock and the squid/calamari and stir for ~1 minute. From that moment onwards do not stir any more. Increase heat to max, adjust salt and pepper to taste
Drain the pippies and spread them all over the rice, then the mussels and the prawns
When the rice absorbs all the stock (~10-15 min), reduce heat to a minimum and let it cook for another 5-10 min to let the bottom rice crust a bit ("socarrat*")
Turn the stove off, cover the paella with foil for 5 min and it will be ready to serve.
Notes
*The socarrat is the crusty crispy bottom of the paella that becomes caramelized and toasted on the bottom of the pan when it is cooking.