Print
Tarta de Chocolate – Gluten-Free Chocolate Cake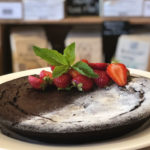 The most impressive thing about this chocolate cake is not that it is gluten-free, not that you only need four ingredients, not that it is ready in 40 minutes, it's that something so simple can be so good.
380g

Dark Chocolate 70%

380g

Unsalted Butter

8

Eggs

100g

Caster Sugar
Instructions
Melt the diced unsalted butter and chocolate over a bain-marie.
In a separate bowl, mix the eggs and the caster Sugar.
Once the chocolate and butter are melted, combine with the mixed eggs and sugar.
Bake for 20-25 minutes at 180 C in a baking recipient.
Buen aprovecho!