Print
Olivada Recipe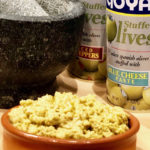 Olivada, is an easy to prepare olive pate from Spain that can be eaten like a dip with crusty white bread, or as a tasty salsa to accompany grilled white fish or vegetables,
You can use green or black olives or a combination of both. For our version, we have used anchovy-filled stuffed green olives. Olivada is refreshing as well as quick and easy to prepare.
1 x tin Anchovy-stuffed green olive
10ml extra virgin olive oil
Instructions
Open and strain the tin of olives.  Place the strained olives in a bowl, add the olive oil and using a stick blender or food processor blend until you have a thick, creamy consistency.